02 June 2020
Since our last update in April the OQSL Executive have been staying informed on the health and safety risks for our city and province as a result of the COVID-19 Pandemic while consulting with the City of Ottawa and our Umpire Association. We had hoped to be able to salvage part of our season but have now very reluctantly concluded that we must cancel the 2020 season.
OQSL has always been so much more than just softball. For 12 years, we have been able to produce the highest quality product of combining sport and community under the safe haven of acceptance, respect, love and fun both on and off the field. We remain committed and so eager to do this whenever it becomes safe to do so. While our 13th season is cancelled, please stay tuned for possible softball outings this summer. If we are able to, we'll organize either softball play drop-ins, scrimmages, or mini-tournaments and will do our best to organize social gatherings at the Royal Oak. We miss you all and not seeing your faces in-person doesn't seem right.
We want you all to stay connected to our softball community and to the friends and family that we support in and around Ottawa.
If you had paid your 2020 registration fees you should have received an email from the league on how to obtain a refund. As outlined in that email please consider donating a portion of your registration fee to our friends at the Drag and Balls Charity Softball Event for Bruce House. If you have not recevied an email concerning the refund process please contact the Executive. 
10 April 2020
The season was due to kickoff on May 22, but your executive officers, with direction provided by the City of Ottawa, have decided to postpone the season to July 3. Please know this is only a tentative start date with a possibility that the season might be cancelled entirely.
We understand this is not the news the league was hoping to receive but we remain optimistic that we can squeeze in some softball this summer or fall. Our league's safety and health will always be a top priority and our decision to postpone the season is based on what we believe is best for our community.
Should the season be shortened or cancelled we will be in touch regarding membership fees. We hope to work with the league to determine whether each member would like a reimbursement issued or for their fees to be held in order to secure a registration spot for the 2021 season.
At this time we are also suspending new registrations for the 2020 OQSL season. Should we be in a position to begin play later in the summer we will reopen registrations at that time.
Finally, as we continue to practice physical distancing, we encourage all to take time to reflect on how lucky we are to have a safe space where we can gather, meet each other, play sports and create beautiful memories. For many of us, playing softball provides an escape every summer and a chance to rekindle summer friendships and make new ones. We remind all of the importance in reaching out to one another safely and continuing to check in on friends.
We remain available for all of you. Our phones are never too far. Our facebook and instagram accounts are available. If you wish to post funny memes or say hello, we'd love to hear so let's stay connected.
Stay active, stay at home, stay connected and keep on being FABULOUS!
22 March 2020
Hello, OQSL Family, We send this note with support and hope that all the former, returning and new members of this wonderful softball league are healthy and connected during this unique time. We are keeping the league members, who are essential first responders and front line workers in a variety of healthcare and customer service fields, in our thoughts. Let's remain connected and be here for one another during COVID-19. If you need anything at all, the OQSL is here for you. Please contact us.
Unfortunately, due to COVID-19 and for the health and safety of our community, we regret to inform that our Kickoff Social Night on April 3rd is now canceled. We will monitor the situation closely and should we be able to safely reschedule our opening season social, communication will follow.
For the wellness of our members and the wider Ottawa community, please monitor reputable sources for COVID-19 updates and follow instructions from the experts at Ottawa Public Health . We encourage you all to stay safe, socially isolate or practice responsible social distancing.  Don't hesitate to reach out to the OQSL Executive via the league email if support is needed during this time.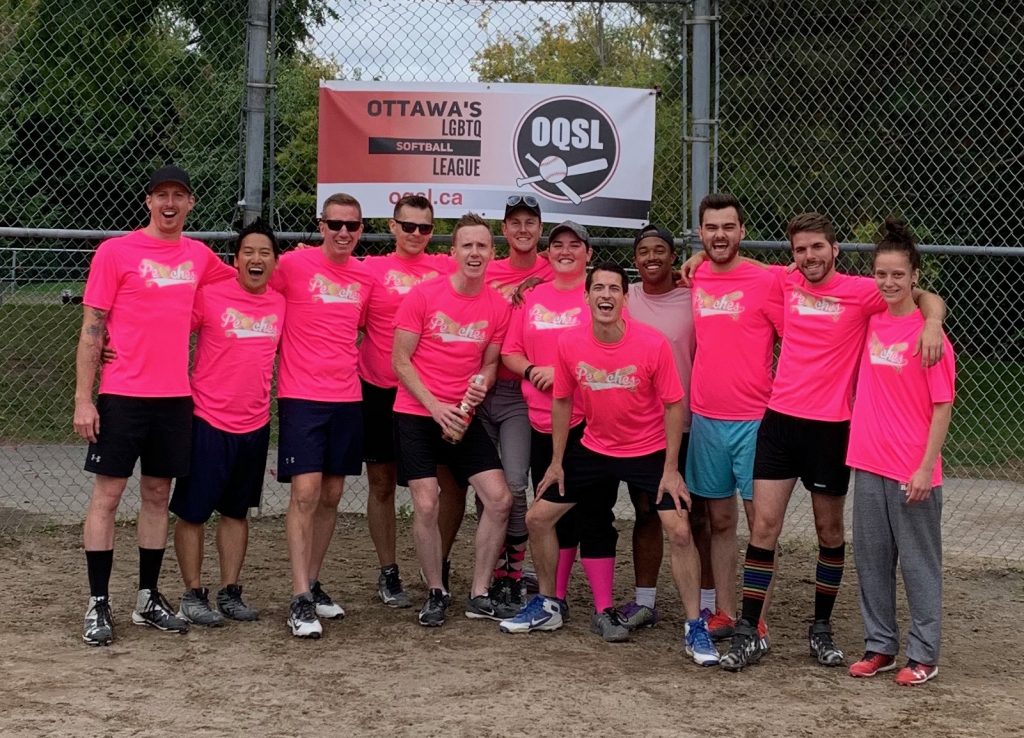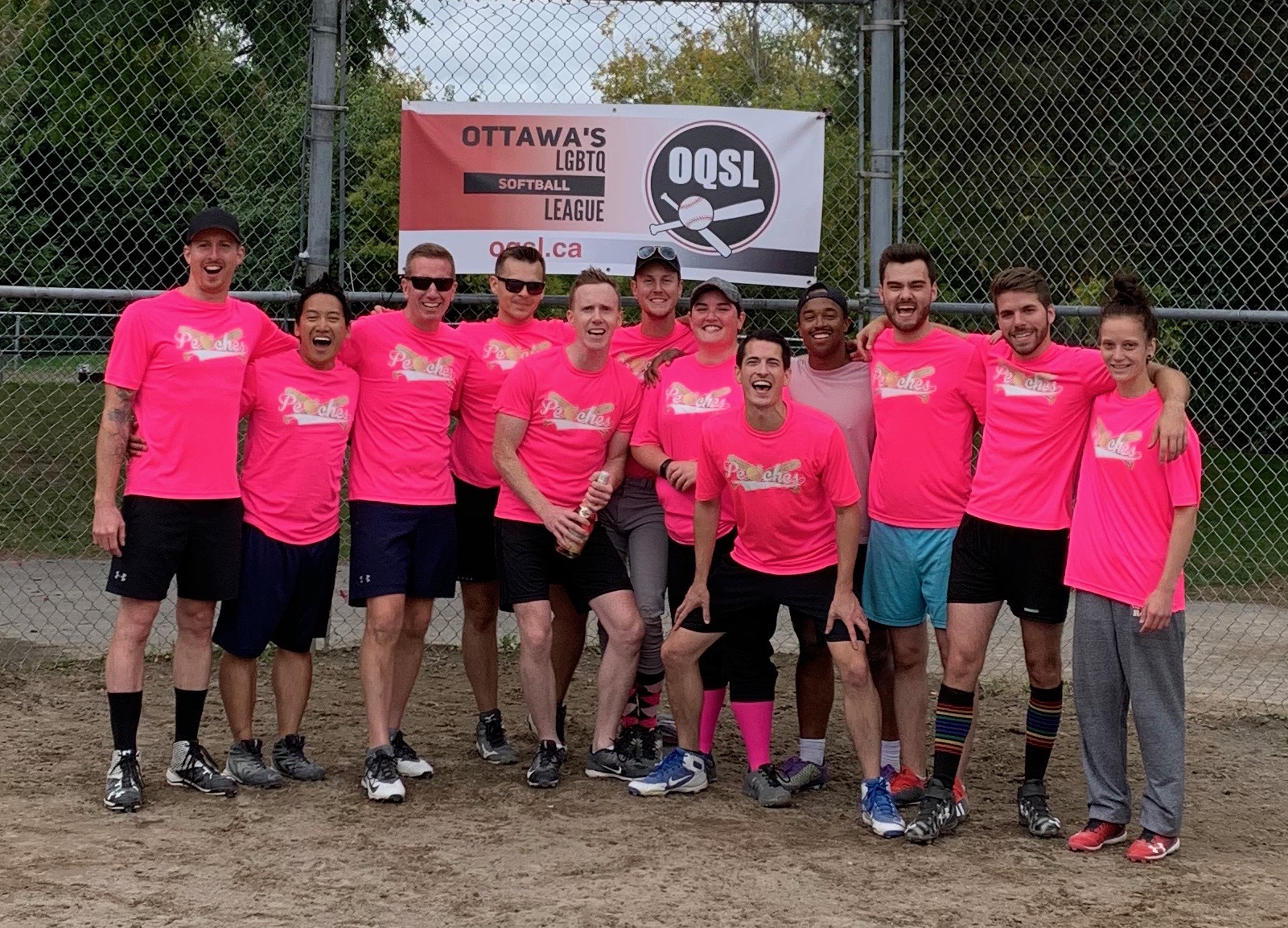 Congratulations to our 2019 Playoff Champions – The Peaches.
They became Playoff Champs the hard way by battling through an earlier loss and taking the runner-up Master Batters to the dreaded "If Necessary" game.  See their progress and that of all the teams on the 2019 Playoff Brackets Page
Congratulations to our 2019 Regular Season Champions the Backdoor Bangerz.  The Bangerz won the season in an exciting fashion winning their last 7 games in a row.  Final regular season standings are available here.