Congratulations to two-time winner Blake House Ball Busters as our 2019 Champions.  They won a hard fought double final against Scotian Pride.
2019 Schedule
The Saturday Round Robin schedule along with Divisional and Combined results can be found here.
The Saturday evening and Sunday playoff bracket, including game results can be found here.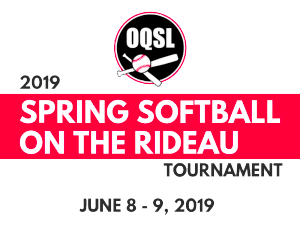 2019 Spring Softball on the Rideau Tournament
Date: June 8 – 9, 2019
The 2019 Spring Softball on the Rideau Tournament is the third instalment of the OQSL competitive softball tournament.  This year 2019 we will have 10 team including teams from Halifax, Montreal and Toronto.
Which team will join the Blake House Ball Busters (2018 ), and the Brokebat Mountain (2017 ) as champions for 2019 ?
RECOMMENDED ACCOMMODATIONS
We recommend the following hotels in the Centretown area of Ottawa. These locations are central to the city, the fields, and easy access to the main highway 417. Additionally, Ottawa does have AirBNB hosts which may be a suitable option for your teams. Other hotels exist in the downtown core, which may be a better fit for your team members.
Best Western Plus Ottawa Downtown Suites – 377 O'Connor St, Ottawa, ON K2P 2M2 – Website
Sheraton Ottawa Hotel – 150 Albert St, Ottawa, ON K1P 5G2 – Website
Ottawa Marriott Hotel – 100 Kent St, Ottawa, ON K1P 5R7 – Website
Lord Elgin Hotel – 100 Elgin St, Ottawa, ON K1P 5K8 – Website
Hilton Garden Inn Ottawa Downtown – 361 Queen St, Ottawa, ON K1R 0C7 – Website
TOURNAMENT FIELDS
This year the OQSL Spring Softball on the Rideau Tournament will be played on the following City of Ottawa fields.  Each of these complexes have two fields  with "1" being the larger field and "2" being the smaller one.
Riverain Park
400 N River Rd
Dumaurier Park
2850 Dumaurier Ave
Tournament Rules of Play
The OQSL Tournament uses the Softball Canada Rulebook and the OQSL Rules of Play during tournament games. The exceptions to the OQSL rulebook are as follows:
Teams must have a minimum of 10 players and a maximum of 14 players.
"One Up Rule" is in effect for homeruns. Any ball hit over the fence is a homerun. Teams may only hit a maximum of +1 homeruns relative to their opponent's home run totals. Any batter that hits a homerun for a team that is already +1 in homeruns will immediately be declared out. Runners cannot advance. If a team is -1 in home runs relative to their opponent, that team may hit two consecutive home runs, moving them from -1, to even, to +1.